Employee Spotlight – Joshua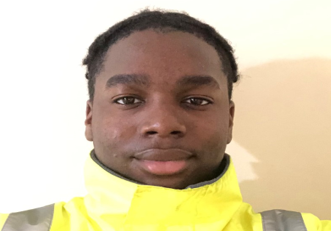 We are proud of our diverse workforce which is representative of people from all nationalities, cultures and age range, from 18 to retirement. One of our youngest workers is Joshua Onyeanusi.
Joshua has had career aspirations to become a Railway Engineer since the age of 12. Having studied for his GCSE's, including achieving Level 2 Engineering-Distinction, he went on to study Level 3 Engineering in College for 2 years, with one day a week engineering placement.     
Read on to hear Joshua's story… 
Employee Spotlight – Joshua
Tell us a little about yourself and how you found AGS?
In 2019, during my second year at College, I came across a funded Railway Training Scheme for people interested in a future in the Transport industry. I was lucky enough to be accepted into the programme and passed my ICI Sentinel card. Soon after, Covid hit the UK and we went into lockdown. I applied for jobs as soon as restrictions were lifted and secured an interview with AGS. One-week later, I was given PPE, ID and booked for work. I plan to work hard in my role and in 2021 attend University to study for a degree in Railway Engineering..
What was your first job with AGS?
I am part of a cleaning team and work the morning shift from 7am to 3pm at various locations, including White City and East Acton. The team take pride in ensuring the stations are cleaned to the highest standards.
How long have you worked with AGS?
I have been with the AGS Group for nearly 2 months now.
What is your current position?
I am currently working on the ABM TFL Contract as a Station Cleaning Operative.
What do you love most about your current role?
The working atmosphere, everything from helping the customers to the welcoming interactions with other staff at the station.. Everyone is kind and talks to you as if you've known them forever, though you might have just met them that same day.
Enough about work…
What is your signature dish?
Chicken Teriyaki stir-fry!
Laugh or cry, what has been your most memorable moment?
So far….taking the ICI exam and receiving my Sentinel card.. Whilst it may appear small, it meant so much to me as I feel it was my first step in the direction of working within the Transport/Railway sector.
Who do you look up to? Do you have a role model?
I am fortunate to have been raised and supported by strong women in my life. My mother, who has encouraged me to be a refined and driven man, my auntie and my grandmother.
Where can you be found when not at work?
I love pursuing my additive hobbies such as fixing, assembling and mounting a range of devices and appliances for friends and family. I enjoy this so much I have recently invested in my own set of tools.
Finally, where do you see yourself in 5 years?
I hope to be starting in my first graduate job in the Railway industry as a Railway Engineer.
---
Congratulations Joshua, you're an inspirational member of the team!