AGS Employee Of The Month – August 2020…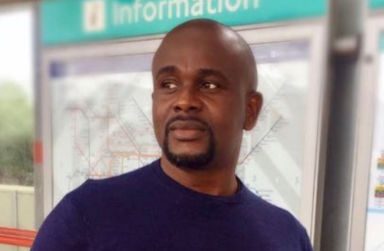 As life begins to return to normal after a difficult period for so many, we wanted to take the opportunity to champion an AGS employee of the month who inspires.
The benefits of a temporary workforce are varied and wide-reaching – with each and every member of the AGS family being a valuable part of the team.
Now more than ever feels like the ideal time to recognise those who inspire us. 
AGS Employee Of The Month – August 2020
We'd like to introduce you to Casmir…
Casmir has been chosen as August's Employee Of The Month due to his continuous efforts to provide the highest standard of service to our clients.
His dedication and commitment to his role deserves special recognition and makes him an indispensable member of the AGS team.
Read on to hear Casmir's story…
Tell us a little about yourself and how you found AGS?
My name is Nnadike Casmir Ugwuogbonna.
I am a Nigerian, resident in the UK since September 2010. I am married and have one child.
I found AGSONE Limited in 2013 through Dave Smith, a former Line Manager in the company.
I met Dave at a training course for the PTS certificate. It was during the personal introduction prior to the start of the course that Dave realised I was searching for a job.
He later approached me and offered to assist me to get on board into the AGS Track Cleaning Operative Team.
On May 6, 2013, precisely two weeks after my meeting with Dave, I got a call from the AGS Planning Desk to come to the company's office on 8/05/2013 with the necessary documents for registration.
What was your first job with AGS?
My first job with AGS was a Rail Tracks Cleaning Operative; I commenced work the same day I registered with the company.
The first shift I did was at the Maida Vale Station where I worked in a team of six operatives including the Sight Person in-Charge to carry out track cleaning on platform level at the station.
How long have you worked with AGS?
I have worked for AGS for over seven years.
What is your current position?
My current position is Pest Control Technician
What do you love most about your current role?
What I love most about my current role is the huge opportunity it affords me to learn new skills needed in carrying out my day to day functions in the company.
Enough about work…
What is your signature dish?
My signature dish is pounded yam with Oha soup prepared with dry fish.
Laugh or cry, what has been your most memorable moment?
My most memorable moment was in January 2019 when I got married to my best friend and soulmate.
It was indeed the most joyful moment of my life which was eventually climaxed with the birth of our son on 08/07/2020.
Who do you look up to? Do you have a role model?
In life generally, I look up to the legacies of late Kofi Annan, the former Secretary-General of the United Nations.
He lived all his life championing global peace through inclusive development and respect for human dignity.
He is my role model. 
Where can you be found when not at work?
When I am not at work, you can find me spending time with my family (my lovely wife and my adorable son) either at home or in a park, especially during summer.
Finally, where do you see yourself in 5 years?
In five years from now, I see myself progressively reaching my ultimate goal in life which is accumulating abundant peace of mind and a formidable relationship with God, my creator.
---
Congratulations Casmir, you're an inspirational member of the team and we couldn't ask for a better recipient of our first Employee Of The Month award!